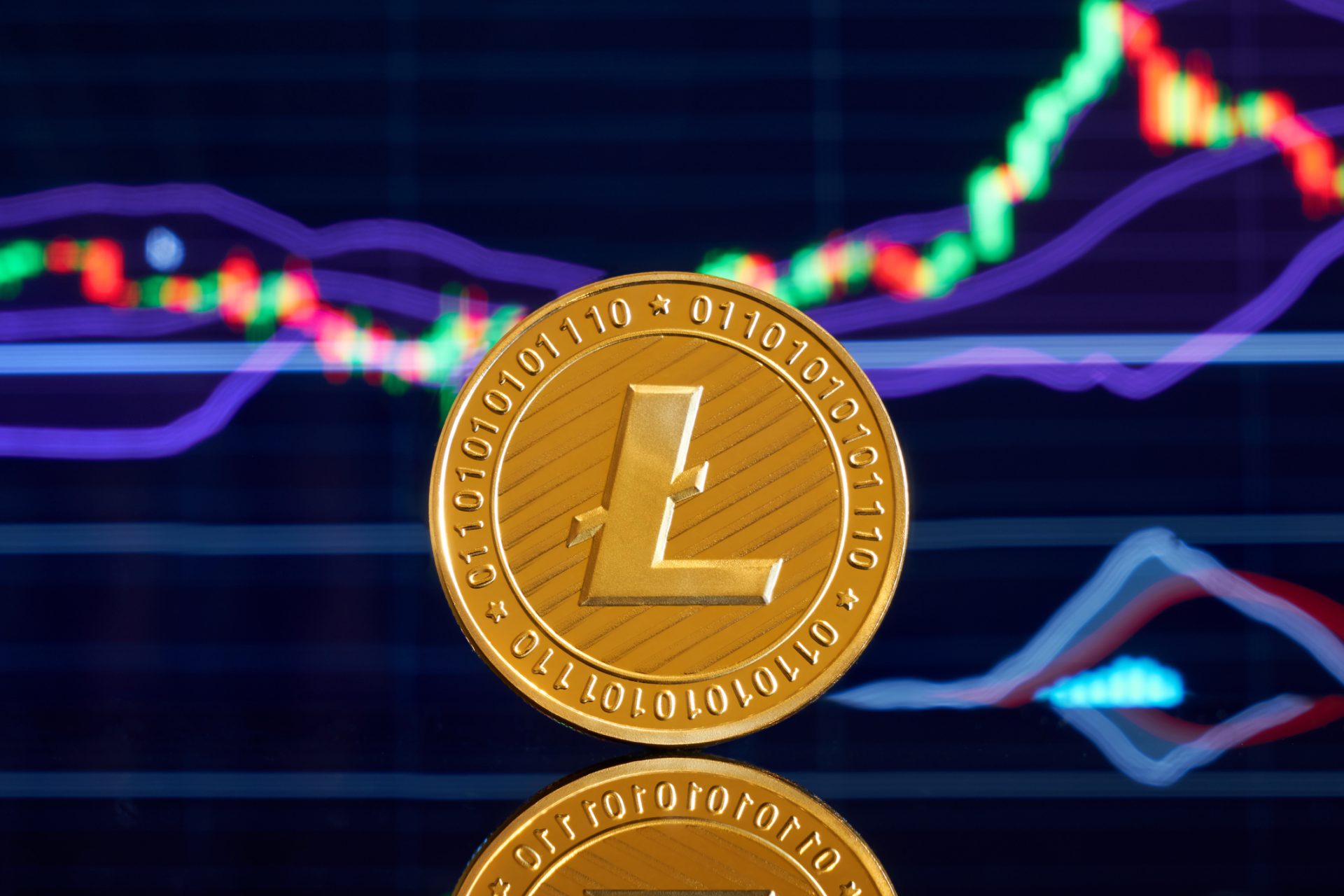 Larina Marina / Getty Images
Litecoin is a cryptocurrency, but it is not new. It entered the market a decade ago as an early competitor to Bitcoin in 2011. As Bitcoin grew, Litecoin trailed behind, getting lost in the competition as new cryptocurrencies entered the market.
Bitcoin is still the leading cryptocurrency, and no current competitors pose a real threat to the company. But Litecoin shows potential for gaining traction in the market.
How Does Litecoin Work?
Litecoin cryptocurrency is set up as a decentralized network. It doesn't have the oversight of a bank or government. Another way it differs from regular currency is how Litecoin is tracked — via blockchain technology.
Blockchains store information in a way that:

Creates a permanent transaction timeline in blocks.
Doesn't allow edits to transaction records, preventing hackers from accessing the system and stealing currency.
Allows transparency in the flow of currency through the network.
Is decentralized, meaning it isn't managed by a single entity.
If hackers can access the Litecoin platform, their steps are easily traced. A hacker might be able to remain anonymous, but any stolen Litecoins have definite tracking through the blockchain. Once a hack is identified, Litecoin can then return stolen currency to its rightful owner.
How Blockchains Differ From Banks
If you have money in a bank or the stock market, there is a limit to when and how you can access your money. You may be limited by business hours or transaction types. Cryptocurrency is like a digital bank that is open around the clock.
Additionally, transfers via the Litecoin platform happen much faster than is usually possible at a traditional bank. Transferring money from your bank to another financial institution could take several business days. With Litecoin, most transactions happen within minutes or hours.
How Is Litecoin Different From the Competition?
Litecoin is one of the original cryptocurrencies. Bitcoin, however, is the most well-known. It still maintains a strong lead above other cryptocurrency platforms. Bitcoin offers more basic abilities and has been the jumping-off point for other cryptocurrencies that try to improve on what Bitcoin had to offer.
Cryptocurrency
Pros
Cons
Bitcoin
-Most valuable currency
-Shows consistent growth
-More basic network design
-Not affordable for buying whole shares
Ethereum
-Second most valuable cryptocurrency
-Completes complex tasks efficiently
-Only one lane for completing transactions
-Charges for each task, so complex transactions add up quickly
Litecoin
-Transactions are processed faster and without delays
-Additional security to address viruses and trojan horses
-Not as much growth as the competition
-Investor doubts about future potential
Why Are Investors Choosing Litecoin?
Litecoin boasts transaction times that are four times faster than Bitcoin's.
Moreover, in 2017 Litecoin was the first cryptocurrency to complete a Lightning Network transaction. The test transaction took less than a second to complete. If Litecoin expands its partnership with Lightning Network to achieve consistently faster transaction times, then its value may increase quickly.
The Strategy Behind Choosing Litecoin
As cryptocurrency continues to grow in popularity and use, more upstarts are appearing on the market. There are more than 5,000 cryptocurrencies available today. Litecoin continues to stand out from this crowd, impressing investors to consistently maintain a spot in the top ten cryptocurrencies.
Litecoin has a much higher supply than Bitcoin. It has a hard-cap of 84 million LTC. Litecoin also generates new blocks in two and a half minutes, as compared to ten minutes for block creation with Bitcoin. Both of these factors make Litecoin more appealing for cryptocurrency transactions, with Bitcoin functioning as a storage space.
Potential Benefits of Investing in Litecoin
Litecoin entered the market in April of 2013 at a value of $4.30. It quickly dropped to $1.50 and didn't see much fluctuation in its first few years. Still, it proved to be competitive in 2017 when cryptocurrency began to take off in popularity. Other benefits of Litecoin include:
Pros
The stability Litecoin has demonstrated over these ten years is impressive.
Litecoin is unique as a cryptocurrency because it has a unique price in the market.
Its shares are affordable but still priced significantly higher than most of its competition.
Litecoin has passed the threshold that would limit it to being considered a penny stock.
Its price range is appealing to investors because it continues to prove it can compete in the market, and there is still a lot of room for growth.
Potential Risks of Investing in Litecoin
Investments always carry a risk. Here are some reasons Litecoin may be a risky investment:
Cons
It shows consistency but doesn't have the type of growth that wows investors.
A partnership with Lightning Network shows great potential, but investors question whether the company will actually live up to this potential.
Litecoin has a lower market cap than other cryptocurrencies.
The Bottom Line
Litecoin is a smart investment option for long-term investors. The company has an excellent track record, maintaining steady numbers over its ten years. If you like to take risks, your investment could pay off big in the future if Litecoin breaks through and takes the lead over other competition.
However, there's also a chance that Litecoin could be overtaken by one of the thousands of new cryptocurrencies trying to break into the market.
Our in-house research team and on-site financial experts work together to create content that's accurate, impartial and up to date. We fact-check every single statistic, quote and fact using trusted primary resources to make sure the information we provide is correct. You can learn more about GOBankingRates' processes and standards in our editorial policy.