Ethereum (CCC:ETH-USD), and other cryptocurrencies have been super hot lately, in part thanks to Coinbase Global (NASDAQ:COIN) going public. Ether, the cryptocurrency of the Ethereum network, has hit record highs in the past few days, and it currently shy of $2,500. Today I'll look at ETH to see if further gains are possible in the months ahead.
ETH Follows Bitcoin
While Bitcoin (CCC:BTC-USD) remains the largest cryptocurrency, the second-largest digital asset is ETH. Ethereum now has a market capitalization (cap) of $290 million, and Ether is up by 237% year-to-date. Put another way, the proverbial $1,000 invested in ETH in early January would now be worth $3,370.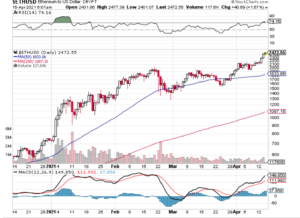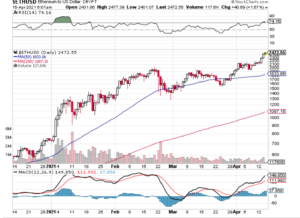 Source: Stockcharts.com
By comparison, Bitcoin, the first cryptocurrency, is up around 95% YTD. Its price is around $62,000 and the market cap stands around $1.17 trillion. There are other cryptocurrencies, known as altcoins, that have received significant attention lately. Among these are Ripple (CCC:XRP-USD), Dogecoin (CCC:DOGE-USD), Binance Coin (CCC:BNB-USD), and Tether (CCC:USDT-USD). Nonetheless, Bitcoin and Ethereum hold around 65% of the total market cap in cryptos.
Ether started in 2015 as a programmable blockchain. While Bitcoin uses blockchain technology applied to money, Ethereum, the protocol for building decentralized applications, is currently the most actively used blockchain. The technology behind Ethereum protocol is advanced and has many uses beyond the storing and recording of transactions.
Recent research by Stefano Ferretti and Gabriele D'Angelo of the University of Bologna, Italy highlights:
"The Ether is the fuel for operating in Ethereum. Every transaction in Ethereum is made possible through a payment made by the clients of the platform to the machines executing the requested operations. This enables several applications, ranging from the exchange of cryptocurrencies, to financial applications, storing and management of tokens and digital assets, notary systems, identity management, voting systems, up to those application that require the traceability of resources and assets."
In early February, CME Group (NASDAQ:CME) introduced futures contracts in Ether. These are legal agreements to buy or sell Ether at a predetermined price at a later date. The Street expects to see increased institutional investment in ETH as a result of the introduction of futures contracts. This regulated market will bolster the crypto's future prospects.
Ethereum and the Growth of NFTs
Non-fungible tokens (NFTs) are among the latest global cryptocurrency phenomenon and investment hype. These blockchain-based crypto tokens act as certificates of ownership for virtual or physical assets. Thus, an artwork or a collectable item is "tokenized," and the digital certificate of ownership is eventually bought and sold.
ETH, BTC and other altcoins are fungible. Put another way, 1 XYZ token, such as USDT, in someone's wallet is worth exactly the same as 1 XYZ (or USDT) in another person's wallet. The same holds true for national fiat currencies: every U.S. dollar bill is interchangeable with another one.
However NFTs are non-fungible as no two NFTs are the same. Therefore, they are not mutually interchangeable. Currently, most NFTs tend to be digital, and any digital piece of work could potentially be bought or sold as an NFT. For instance, video-gamers can use NFTs as in-game items.
Take the Italian artist Leonardo da Vinci, who painted the Mona Lisa in the 16th century. If he could have created his masterpiece on a blockchain, it would have been an NFT, which is only worth what someone is willing to pay for.
As we discuss cryptos and NFTs, we need to highlight the importance of Ethereum. Developers use the Ethereum blockchain to build other coins, including NFTs. In fact, Most NFTs have so far been developed on the Ethereum blockchain.
Ferdinand Regner of the University of Augsburg, Germany suggests:
"To foster interoperability, the community agreed on multiple application-level standards – so-called Ethereum Requests for Comments (ERCs). The most well-known standard, called ERC20, specifies a standardized interface for fungible tokens … A new class of tokens was introduced in late 2017 with the ERC-721 standard. The ERC-721 standard specifies a standardized interface for so called non-fungible tokens."
The increasing popularity of non-fungible tokens will likely support the price of ETH in the coming months as well. Many creatives, like musicians, digital artists, musicians, and painters, have begun accepting ETH as a form of payment. Meanwhile, institutional players are also warming up to the idea of cryptocurrencies like Ethereum.
The Bottom Line on Ethereum
As more and more individuals and institutions accept digital currencies, I expect the growth of cryptos like Ethereum to continue. ETH might reach $3,000 sooner rather than later. If you are a long-term investor, you should consider buying the dips.
Yes, the price of Ethereum is volatile. Given the rally over the past year, ETH is likely to be choppy in the coming weeks. Its price chart indeed reveals that daily swings are wide and the direction of the next move usually surprises investors. Therefore, short-term traders should to be cautious.
On the date of publication, Tezcan Gecgil did not have (either directly or indirectly) any positions in the securities mentioned in this article.
Tezcan Gecgil has worked in investment management for over two decades in the U.S. and U.K. In addition to formal higher education in the field, she has also completed all three levels of the Chartered Market Technician (CMT) examination. Her passion is for options trading based on technical analysis of fundamentally strong companies. She especially enjoys setting up weekly covered calls for income generation.