The Litecoin price recovery from last week's crash is looking vulnerable, and the failure to reclaim $200 may be setting LTC up for a fall. Unlike many altcoins that have roared higher, Litecoin (LTC/USD) takes its lead from Bitcoin (BTC/USD). And unfortunately for the bulls, BTC is giving it back and is in danger of breaking down.
As I warned last week, violent selloffs are often followed by a bounce. Furthermore, that bounce often sucks in buyers, which increases the chance of another leg down. This appears to be what we see at the moment with the Litecoin price. During Tuesday's liquidation event LTC, lost 30%, skidding from $232, down to $161. Although, despite bouncing the following day, the rebound has lacked conviction and failed to recapture the important $200 milestone. As a result, LTC looks like it may return not only to last weeks low but even lower than that.
LTC/USD Price Forecast
The 4-hour chart shows a strong band of overhead resistance between $185 and $200. Aside from the late August pop to $232, this band of resistance has proven unscalable following the May collapse. With the price trading at $177, this resistance band is again the biggest obstacle for the bulls to overcome.
Furthermore, the price action since last Tuesday has resulted in a short-term uptrend forming below. As I write, the Litecoin price is testing the resolve of the uptrend, which is seen at $177. Should LTC breach this level, it would suggest a breakdown. In this event, the price should extend lower to Tuesday's $161 low.
Not to mention, if Bitcoin continues to slide, Litecoin could exceed $161, which opens the door to the August low of $134. Until such a time that LTC climbs above $200, the bearish view remains valid. However, should Litecoin rally to a new big figure, the negative outlook becomes invalid.
Litecoin Price Chart (4-Hour)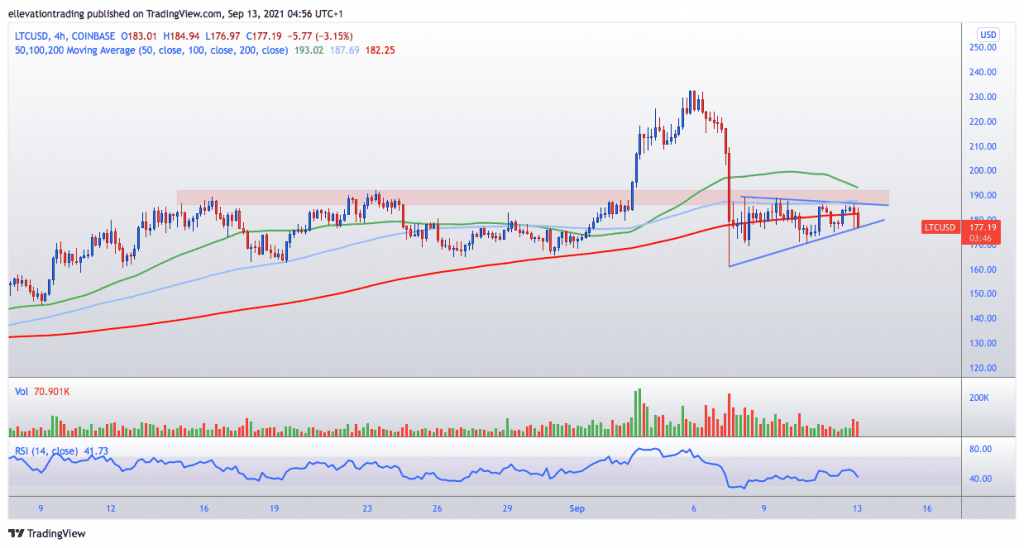 For more market insights, follow Elliott on Twitter.